WELCOME TO REDEMPTION
December 10, 2023
Thanks for joining us for worship today! If it's your first time visiting Redemption (in-person or online), we'd love to connect with you. Please take a minute to fill out a Connection Card below with as much info as you're comfortable giving us. Let us know if you've made any decisions, need help taking a next step in your faith, or have any questions, comments, or prayer requests. We would be happy to serve you.
We exist to lead others to full life in Christ, community, and mission.
TODAY'S MUSIC
ANNOUNCEMENTS
WORSHIP THROUGH GIVING
If you would like to worship the Lord through giving, you have multiple options. You can give online at the link below or via the Church Center app, text to give (dollar amount to 84321), or give in-person at the black boxes at the doors.
Thanks for your generosity! Your giving is making a difference.
CURRENT SERMON SERIES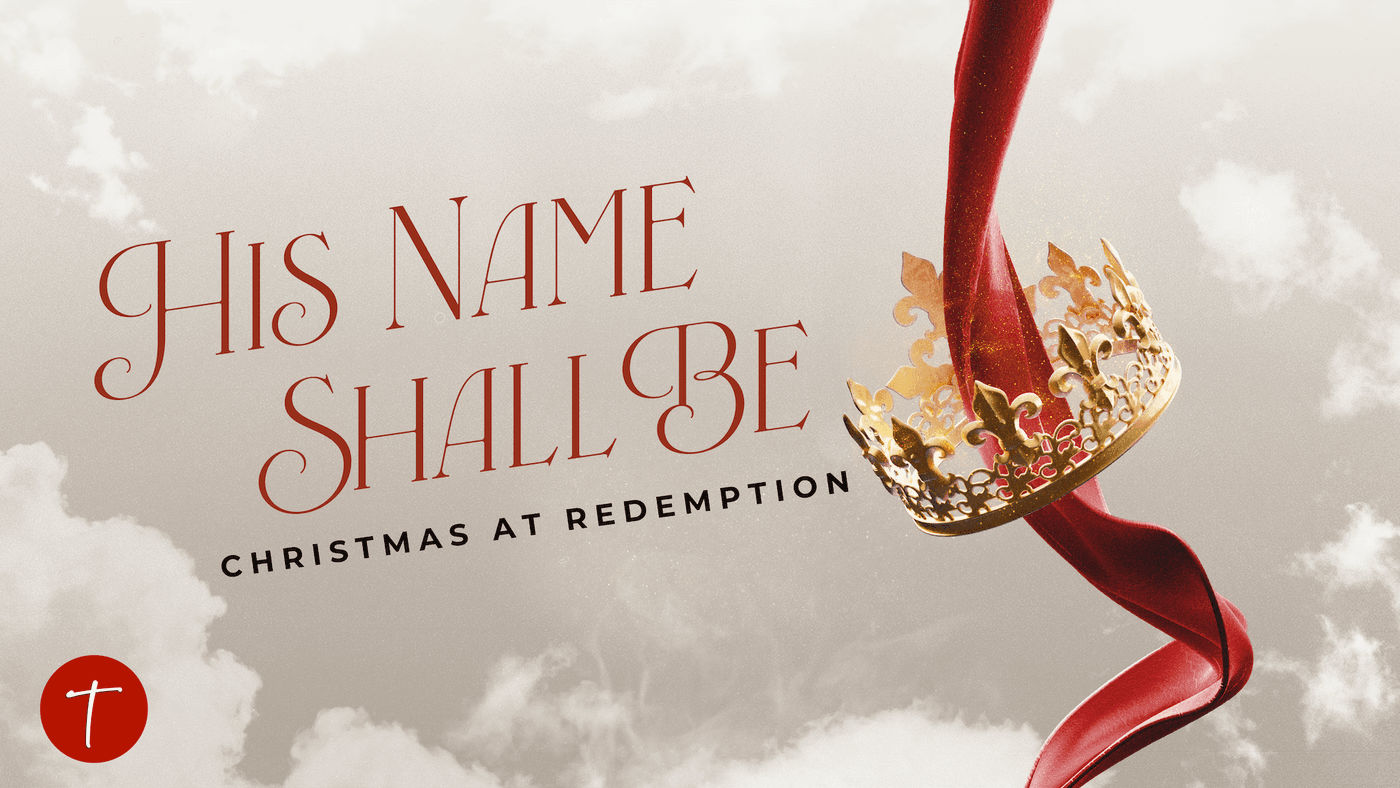 TODAY'S SERMON NOTES
Series: His Name Shall Be
Speaker: Jay Sirmon
Sermon Title: Mighty God
Scripture: Isaiah 9:6
2 Peter 1:19-21 ESV
19 And we have the prophetic word more fully confirmed, to which you will do well to pay attention as to a lamp shining in a dark place, until the day dawns and the morning star rises in your hearts, 20 knowing this first of all, that no prophecy of Scripture comes from someone's own interpretation. 21 For no prophecy was ever produced by the will of man, but men spoke from God as they were carried along by the Holy Spirit.
Isaiah 9:6-7 ESV
6 For to us a child is born, to us a son is given; and the government shall be upon his shoulder, and his name shall be called Wonderful Counselor, Mighty God, Everlasting Father, Prince of Peace. 7 Of the increase of his government and of peace there will be no end, on the throne of David and over his kingdom, to establish it and to uphold it with justice and with righteousness from this time forth and forevermore. The zeal of the Lord of hosts will do this.
QUOTE:
"If Christ be not the Son of God, then is our preaching vain, and your faith is also vain, and ye are yet in your sins - all our visions of heaven are blasted and withered; the brightness of our hope is quenched for ever; that rock on which our trust is built, turns out to be nothing better than mere sand if the divinity of Christ be not proved. All the joy and consolation we ever had in this world, in our belief that his blood was sufficient to atone for sin, has been but a dream of fancy and a "figment of idle brains;" all the communion we have ever had with him has been but an illusion and a trance, and all the hopes we have of beholding his face in glory, and of being satisfied when we awake in his likeness, are but the foulest delusions that ever cheated the hopes of man. Oh, my brethren, and can any of you believe that the blood of all the martyrs has been shed as a witness to a lie? Have all those who have rotted in Roman dungeons, or have been burned at the stake because they witnessed that Christ was God, died in vain? Verily, if Christ be not God, we are of all men the most miserable."
–Charles Spurgeon
Matthew 13:13-16 ESV
13 This is why I speak to them in parables, because seeing they do not see, and hearing they do not hear, nor do they understand. 14 Indeed, in their case the prophecy of Isaiah is fulfilled that says: You will indeed hear but never understand, and you will indeed see but never perceive. 15 For this people's heart has grown dull, and with their ears they can barely hear, and their eyes they have closed, lest they should see with their eyes and hear with their ears and understand with their heart and turn, and I would heal them. 16 But blessed are your eyes, for they see, and your ears, for they hear.
Acts 4:11-12 ESV
11 This Jesus is the stone that was rejected by you, the builders, which has become the cornerstone. 12 And there is salvation in no one else, for there is no other name under heaven given among men by which we must be saved."
2 Peter 1:3-4 ESV
3 His divine power has granted to us all things that pertain to life and godliness, through the knowledge of him who called us to his own glory and excellence, 4 by which he has granted to us his precious and very great promises, so that through them you may become partakers of the divine nature, having escaped from the corruption that is in the world because of sinful desire.
QUOTE:
"The opposite of love is not hate, it's indifference. The opposite of art is not ugliness, it's indifference. The opposite of faith is not heresy, it's indifference. And the opposite of life is not death, it's indifference."
–Elie Wiesel
Genesis 3:15 ESV
I will put enmity between you and the woman, and between your offspring and her offspring; he shall bruise your head, and you shall bruise his heel.
QUOTE:
"A gracious promise is here made of Christ, as the deliverer of fallen man from the power of Satan. Though what was said was addressed to the serpent, yet it was said in the hearing of our first parents, who, doubtless, took the hints of grace here given them, and saw a door of hope opened to them, else the following sentence upon themselves would have overwhelmed them. Here was the dawning of the gospel day. No sooner was the wound given than the remedy was provided and revealed. Here, in the head of the book, as the word is (Heb. 10:7), in the beginning of the Bible, it is written of Christ, that he should do the will of God. By faith in this promise, we have reason to think, our first parents, and the patriarchs before the flood, were justified and saved and to this promise, and the benefit of it, instantly serving God day and night, they hoped to come. "
–Matthew Henry
1 Corinthians 9:8-12 ESV
8 Do I say these things on human authority? Does not the Law say the same? 9 For it is written in the Law of Moses, "You shall not muzzle an ox when it treads out the grain." Is it for oxen that God is concerned? 10 Does he not certainly speak for our sake? It was written for our sake, because the plowman should plow in hope and the thresher thresh in hope of sharing in the crop. 11 If we have sown spiritual things among you, is it too much if we reap material things from you? 12 If others share this rightful claim on you, do not we even more? Nevertheless, we have not made use of this right, but we endure anything rather than put an obstacle in the way of the gospel of Christ.
Matthew 28:18-20 ESV
18 And Jesus came and said to them, "All authority in heaven and on earth has been given to me. 19 Go therefore and make disciples of all nations, baptizing them in[a] the name of the Father and of the Son and of the Holy Spirit, 20 teaching them to observe all that I have commanded you. And behold, I am with you always, to the end of the age."
John 14:27 ESV
27 Peace I leave with you; my peace I give to you. Not as the world gives do I give to you. Let not your hearts be troubled, neither let them be afraid.
QUOTE:
"To continue in atheism, I would need to believe that nothing produces everything, non-life produces life, randomness produces fine-tuning, chaos produces information, unconsciousness produces consciousness, and non-reason produces reason. I simply didn't have that much faith."
–Lee Strobel
QUOTE:
"I believe in Christianity as I believe that the sun has risen: not only because I see it, but because by it I see everything else."
–CS Lewis
THANKS FOR JOINING US!
Thanks so much for worshipping with us today! If you're new to Redemption, or to God and church in general, please connect with us or check out any of the links below. We'd be happy to answer any questions you may have, pray for you, or serve you in any way we can.