At Friendship, we acknowledge there are many different opinions as it relates to Covid-19.
We believe gathering the body together for worship is essential to Christian living. We want to remind everyone that Friendship seeks to follow local guidelines which include being intentional about physical distancing and the wearing of masks during our gatherings on campus.
We acknowledge many in the body of Christ have concerns related to Constitutional freedoms, but we believe this is a kingdom issue and not merely a Constitutional issue. We have a biblical mandate to assemble ourselves for worship as well as a Constitutional guarantee to assemble for worship and the freedom to worship. We are compelled for the sake of the gospel to do it in a way that is living proof of a loving God to a watching world.
We must be united around our mission and not divided by our opinions. Please help us show our community that we love and care for them and not just about our own self-interests. Opinions are many but the mission of sharing the gospel is what makes us one.
We will always have online options for those more comfortable staying at home and encourage you to continue using whatever level of caution you believe appropriate for your family.
Follow us online
During this season of uncertainty, we will post updates on our social media accounts (links located in website footer at bottom of page). Any new or urgent updates will be posted as an alert at the top of our website. (see image below)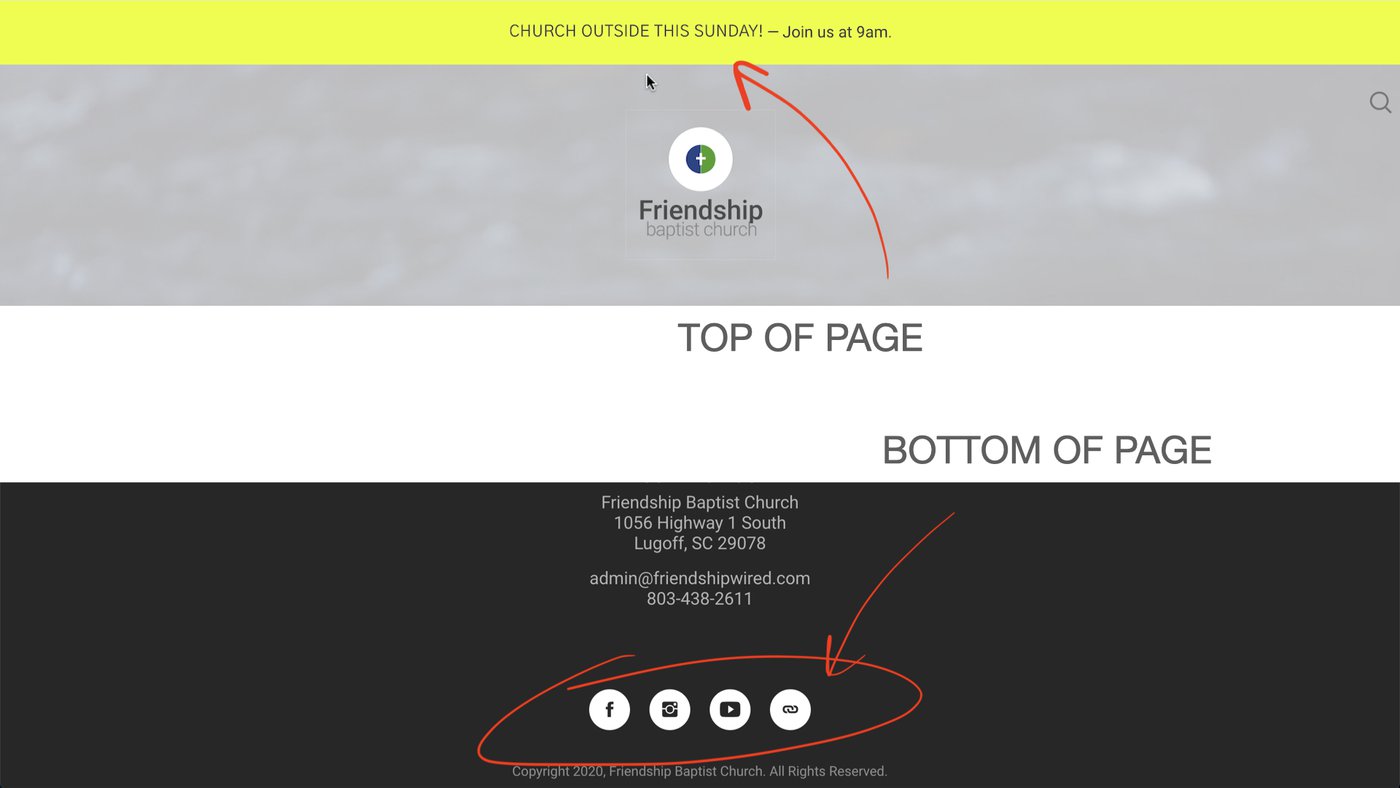 Give help, Get help
If you are willing and able to GIVE TANGIBLE HELP to others (grocery delivery or other needs), or if you need to GET HELP (COVID-19 related or not), please go to the link below.
If you would like to GIVE FINANCIALLY to help those in need (in our Friendship family or in our community), click DONATE below and choose the "Remember Egypt" fund.
Food for the Soul
Food for the Soul is providing free, hot to-go meals every week for anyone in need. To learn more about Food for the Soul, or to sign up to serve, click below.
MONDAYS 6-7pm: Meal served at Friendship Baptist Church in Lugoff.
THURSDAYS 6-7pm: Meal served at Blaney Baptist Church in Elgin.
WANT TO SPEAK TO SOMEONE DIRECTLY?
Worship with us
When COVID-19 hit, we quickly began broadcasting our services online, along with on-demand viewing available on our YouTube channel. Now we are holding in-person services each Sunday at 9am & 10:45am, while also continuing to provide an online option via live stream on our Facebook page. We have also relaunched Friendship Kids during our 10:45am in-person service only.
To learn more about our different service options, please visit the appropriate link below.
CURRENT WORSHIP OPPORTUNITIES
Prayer
If we can pray for you in any way, please let us know by submitting a prayer request below.
Let us then with confidence draw near to the throne of grace, that we may receive mercy and find grace to help in time of need.
HEBREWS 4:16